Taunus Hike
Day 7: Bad Ems to Koblenz
7/8/01, 12:35p.m., Rabenstein, near Lahnstein auf der Höhe. Trying to get in lunch before if rains. It rained again last night but so far today has just looked threatening. Left Bad Ems at 8:15 and met up with the Lahn Höhenweg near the West train station. Nice trail - well marked - alongside the Lahn this morning. Then the trail turned south, with a fairly steep ascent through the Schweizertal, alongside a stream.
As the trail came out of the valley, onto farmland, there was a row of cherry trees with ripe cherries. Also found ripe raspberries this morning. The trail goes through the village of Frücht and right by a small grocery story (open only in the morning). Didn't see any place to eat in town. I missed the turn out of Frücht and ended up having to do more reconnoitering from a hunting tower and to crawl under some electrified fences to get back. Lost about half an hour. Actually saw some other hikers today, Sunday strollers with their dogs. I'm now at the point where the Lahn Höhenweg meets the Rhein Höhenweg, so can't be too far now.
5:37 p.m, Koblenz, am deutschen Eck. Just enjoyed mightily a Goulaschsuppe and beer. Got here at 4:30, after an 8 hour hike. The hardest was the last 6 km from Lahnstein to Koblenz. I expected that to be a pleasant stroll along the Rhein, but it turns out that all Lahnstein has on the Rhein are factories. Once you get by Lahnstein to the neighboring Horchheim, it gets much better. Lahnstein does have the famous "Wirtshaus an der Lahn", celebrated in song. Also Burg Lahneck.
Gouslash heaven - Lahnstein - Wirtshaus an der Lahn - Burg Lahneck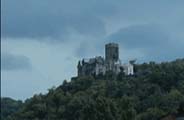 Lahnstein panorama
(in QuickTime VR - requires
QuickTime
plug-in)
By the time I got to Koblenz I was pretty beat, and could feel at least one new blister on my feet. I had barely the energy left to walk around Koblenz a bit. Walked through the Altstadt and looked around Jesuitenplatz. Then went to where the Rhein and Mosel meet, the Deutsches Eck. Koblenz is a pretty big place but easy to walk around. Sad my week in the Taunus is over, but my feet need a break.
Koblenz: Rathaus - Schlängelbrunnen - St. Kastor - Schloß
Koblenz panoramas: Jesuitenplatz - Deutsches Eck
(in QuickTime VR - requires
QuickTime
plug-in)
Total: 30 km
© 2001
rgjones@vcu.edu